Mingjiada Supply CPLD MachXO2 Series LCMXO2-4000HC-4BG256C FPGA - Field Programmable Gate Array
Model: LCMXO2-4000HC-4BG256C
Brand: LATTICE
Lot number: 21+/22+
Package: BGA256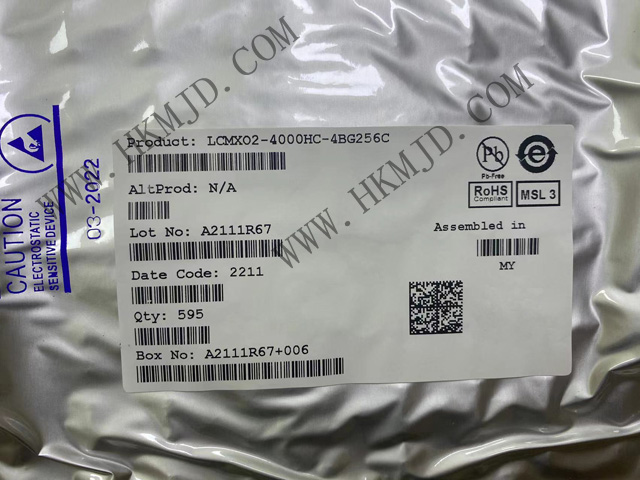 Description: The Lattice Semiconductor MachXO2 Programmable Logic Device (PLD) consists of six ultra-low-power, instant-on, non-volatile PLDs that offer densities from 256 to 6864 look-up tables (LUTs).
Product Specifications
Number of LAB/CLB: 540
Number of logic elements/units: 4320
Total RAM bits: 94208
Number of I/Os: 206
Voltage - Power Supply: 2.375V ~ 3.465V
Mounting Type: Surface Mount Type
Operating temperature: 0°C ~ 85°C (TJ)
Package/Case: 256-LFBGA
Vendor Device Package: 256-CABGA (14x14)
The company acquired LCMXO2-4000HC-4BG256C FPGA - Field Programmable Gate Array, only the original product is needed. For those who have the original label, please contact us on QQ1668527835! ! !
Integrity distribution and recycling of electronic components series inventory of stock ICs: 5G chips, new energy ICs, IoT ICs, Bluetooth ICs, Internet of Vehicles ICs, automotive-grade ICs, base station ICs, communication ICs, artificial intelligence ICs, medical ICs, home appliance ICs , voice IC, memory IC, sensor IC, microcontroller IC, transceiver IC, mobile phone IC, Apple mobile phone IC/watch IC, wearable IC, connector, lighting IC, capacitor resistance, TO-247, two transistors, etc. series of products.