Mingjiada Supply New Original Power Switch IC - Power Distribution TPS1HC100BQPWPRQ1 TPS1HC100-Q1 Automotive Single Channel Smart High Side Power Switch
The TPS1HC100-Q1 device is a high-side power switch with full protection, integrated NMOS power FET and charge pump, designed for intelligent control of various loads. The device stands out in the market for its accurate current sensing and programmable current limiting features.
Features
- Single-channel intelligent high-side power switch for 12V automotive systems with full diagnostic capability
- Open-drain status output
- Analog output for current detection
- Wide operating voltage range: 3V to 28V
- Low standby current: less than 0.5µA at 85°C
- Operating junction temperature range: -40°C to 150°C
- Supports 1.8V, 3.3V and 5V logic voltages
- ADC protection via fault detection voltage regulation
- Programmable current limit with ±18% accuracy at 1.9A
- High accuracy current sensing with ±6% accuracy at 1A
- Protection
- Overload and short circuit protection
- Negative voltage clamp for inductive loads
- Under voltage lockout (UVLO) protection
- Thermal shutdown and thermal oscillation with self recovery
- Ground failure protection and loss of power protection
- Reverse battery protection for external components
- Diagnostics
- Open load and battery short circuit detection for on and off state outputs
- Overload and short-circuit to earth detection
- Thermal shutdown and thermal oscillation detection
- Qualification
- Meets AEC-Q100 automotive grade 1 temperature standard
- Provides functional safety
- Documentation to assist with functional safety system design
- Tested to AECQ100-12 Class A, tested to 1 million earth shorts
- Certified to ISO7637-2 and ISO16750-2 for electrical transient immunity
- 14-pin thermally enhanced PWP package
The TPS1HC100-Q1 device can be used as a high-side power switch for a variety of resistive, inductive and capacitive loads including low wattage light bulbs, LEDs, relays, solenoids and heaters.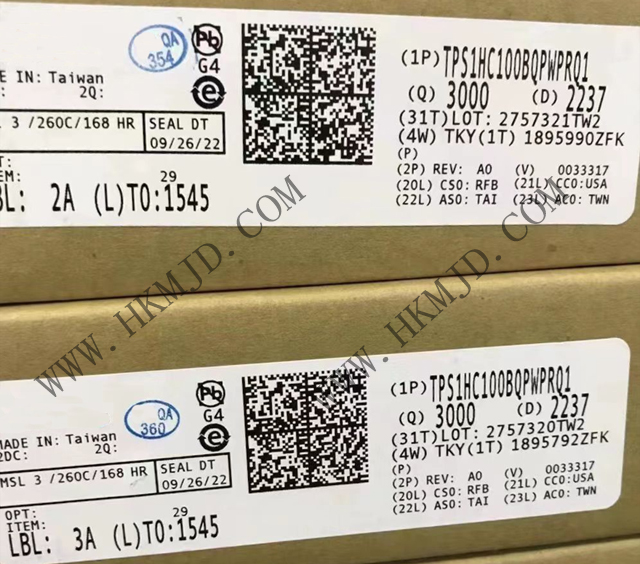 If you are interested, please contact Mr. Chen at
Tel: +86134110018555
E-mail: sales@hkmjd.com